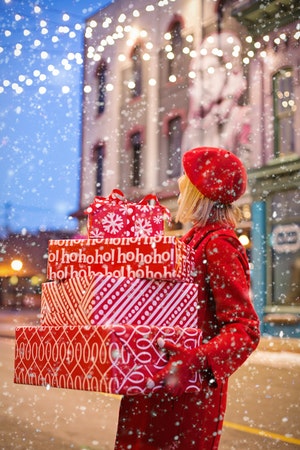 The holidays are officially here and in full swing, and you know what that means—the clock is ticking on buying gifts for your kids. If you're looking for a great gift idea for kids, look no further—it's roller skating to the rescue!
Reasons to Give Roller Skates as a Gift
It's fun, obviously!
It's social and provides a family-friendly space for kids and teens to hang out with friends.
It's active and encourages kids to get off the couch. Skating burns calories, builds muscles, and can even improve stamina and agility.
Roller Skating Gift Ideas
Your kid will feel like a boss going from rental skates to their very own skates in a style and color that expresses their personality.
Riedell Dart Ombre Skates
These rink and speed skates are not only high quality skates made by one of the leading roller skate companies, Riedell; they also look super cool thanks to an ombre gradient effect in a range of stylish colorways like purple/lime green, pink/purple, and blue/pink.
Vanilla Junior Jam Skates
If your child loves to bust a move to their favorite music, jam skates are the way to go. These skates are designed to be worn for jam/session skating, with a toe plug instead of a toe stop allowing for more maneuverability and some pretty sweet moves. Vanilla's Junior Jam Skates are high quality and stylish, available in several colors including mint, black/pink, and red/white.
Moxi Roller Skates
It doesn't get any more stylish than Moxi Roller Skates! Your tween or teen will be overjoyed to open a box and discover their very own pair of Moxis in candy-colored suede or cheetah print. Don't worry, these skates have style and substance; they're hand-made in the USA with the highest craftsmanship and quality materials.
Pacer Comet Light-Up Skates
These fun, kid-friendly skates have wheels that light up when you skate, and come in two cool colorways: white/hot pink/purple, and grey/black/yellow.
Skate Accessories
Don't forget to complete the gift with some awesome skate accessories! Wheels, toe stops, pom poms, light up laces, and boot covers all make great stocking stuffers. Skate tools and skate leashes or bags are also a great way to finish off a gift, and they're useful to boot. (Pun intended.)
If you have an avid or aspiring roller skater on your gift list this year, the Rainbow Skateland pro shop in Lockport is your go-to source for gifts they'll love. Check out our catalogs for yourself, and give us a call at 716-507-4381 to place your order. (These are wholesalers; they do not sell to individuals.) Not sure what exactly you need? Just stop by to chat with our pro shop and we'll get you all set up with everything you need for the perfect roller skating gift.