So you've just purchased a brand-new shiny pair of skates! You wear them to Rainbow Skateland, outside at the park, inside your parents house (shhh, we won't tell) and over at your friend's house. Like with most new things that we buy, we typically get a lot of use out of them for the first few months and pay attention to every tiny scratch and mark that we acquire. However as time goes on, most people will stop worrying about the details of their skatesskates and forgo simple maintenance on them.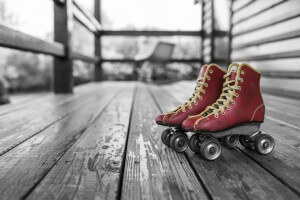 Simple maintenance of your roller skates can prevent injuries and can keep your skates looking good and functioning properly. Follow the tips below to give your roller skates a longer life:
Toe Stoppers: be sure your toe stoppers are tightly fastened to your skates. If you can twist the stopper easily with your hand, grabbed a screwdriver and manually tighten it. If you own Carrera Skates you will be able to adjust the height of the stoppers by loosening the locknut located at the base of the toes stop bolt. With adjustable toe stoppers, you really only need to verify the tightness a few times a year.
Wheel Nuts: just as with the host stoppers, if your wheel nuts can be  loosened by hand then it needs to be re-tightened with a 1/2″ wrench. Just make sure you don't tighten it too much to inhibit the wheel from rolling!
Cleaning: Generally most rollerskates can be cleaned with a simple mild soap and water solution. Take a cloth and gently wipe away the dirt and grime, but do not submerge in water. Never put roller skates in a washer or dryer! That is a great way to turn a $100 pair of skates into a $1000 problem!
We look forward to seeing you wear your shiney and safe skates at Rainbow Skateland! Contact us today for more information about roller skate maintenance or for more information about skate sessions.