Crisp air, shorter days, falling leaves….Autumn has officially arrived in Virginia! When it comes to opportunities for family fun, there's no better season than fall. From hay-rides to haunted houses, there's something for everyone! Don't miss out on these awesome autumnal activities in and around Lockport, NY. 
Apple Picking at Becker Farms – https://www.beckerfarms.com/buy-tickets 
There's nothing more quintessentially "New York Autumn" than apple picking! This year's Apple Harvest and Fall Fun at Becker Farms captures the spirit of this season perfectly – admission includes parking, live music, apple or pumpkin picking, and access to 340 acres of beautiful orchards, fresh air, and family-friendly activities. Pricing starts at $9.00 per child, $10.00 per senior, and $13.00 per adult.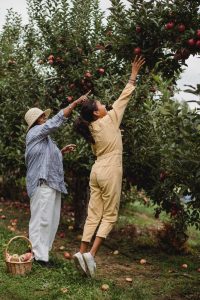 Hike Niagra Falls – https://www.niagarafallsusa.com/blog/fall-for-free-guided-hikes-in-niagara-usa/
Get outside and experience the great outdoors by joining a free guided hike! Join a park naturalist, marvel at the changing colors, and learn more about the unique history and nature of the Niagara Gorge hikes are offered in October, November and December, and spaces go quickly so we recommend planning ahead!
Lockport Paranormal Walks – https://www.paranormalwalks.com/store/Lockport-Paranormal-Walks-p233581903 
Are you looking for something a little spooky this Halloween season? Take a stroll through Lockport's darker history on a Lockport Paranormal Walk! Every Saturday in October, the Lockport Paranormal Walks take guests on a historical ghost tour to explore the area's paranormal past. All tours begin at 7 p.m. Tickets can be purchased online or in-person the day of the tour.
Celebrate Halloween at the Buffalo Zoo – https://www.simpletix.com/e/celebrate-halloween-at-the-buffalo-zoo-tic-tickets-58539 
Get ready for a wild time at the Buffalo Zoo's "Celebrate Halloween" family event! Featuring fall favorites like a corn maze, costume parade, and a pumpkin patch, this event takes an already exciting trip to the zoo to the next level. Families can pick their own pumpkins and decorate them with available supplies for an additional fee. Once you're done with all the Halloween fun, stay and explore — zoo admission is included in the ticket price. "Celebrate Halloween" is from 10 a.m. to 4 p.m. Oct. 2-3, 9-11, 16-17 and 23-24. A Trick or Treat trail is open from 11 a.m. to 2 p.m. 
Skate Through The Season at Rainbow Skateland – https://rainbowskateland.com/september-juneschedule/ 
Rain or shine, we're always rolling around the rink at Rainbow Skateland! Whether you're a newbie or a pro, there's fun to be found right here in Lockport, NY!