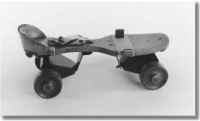 It's official. National Roller Skating Month is here and at Rainbow Skateland, we we couldn't be more excited about it! So, in honor of our favorite month of the year, we thought it would be fun to give you guys a little history and a few fun facts about the pastime we all love.
First Things First
Roller skating has been around for over 250 years! Do you realize that that's even older than our country? It's true. But skating looked a lot different back then.
The first skates didn't have trucks so the skater could only roll straight ahead and hope for the best. In 1760, it didn't work out great for inventor John Merlin when he tested out his new wheeled shoes and rolled right into a huge mirror. Merlin took his lumps, but skating was born and there was no going back!
Trucks Revolutionize Skating
Fast forward a hundred years to 1863 and we see the invention of a roller skate that is actually able to turn! Trucks essentially added an axle for the front wheels on your typical quad skates. With the axle sitting on a bearing, a skater is able to turn by leaning their weight one way or the other. But you can take our word for it when we tell you that not everyone has stopped skating into walls!
Learning is Easy and Then Fun Never Ends
Speaking of skating into walls, did you know that Rainbow has a pro shop and lessons to get you up to speed quickly? Learning to skate is easy. You just have to remember to take it at your own pace. New or slower skaters will stay closer to the wall while faster, more experienced skaters will take an inside line. Sticking to this guideline can help keep everyone safe and make sure fun is had by all skill levels.
For more information or to give it a shot, roll by Rainbow Skateland anytime we're open or book a party today!