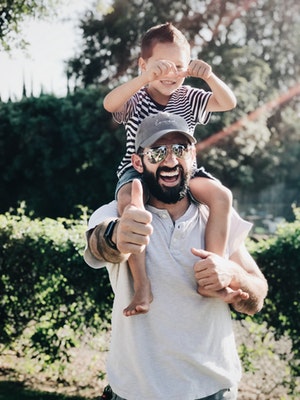 When it comes to family fun, some activities are just better than others. We'll admit to being a little predisposed, but we still think roller skating is one of the best! There are so many reasons why roller skating is awesome, from the physical benefits (aerobic exercise, core and lower body muscle strengthening, balance and agility skills) to the social value (skating is fun, great for groups, and brings people together with music and games).
Many of us grew up roller skating, but what about younger generations? Read on to learn how to get your kids involved in roller skating.
Introducing Kids to Roller Skating
Here at Rainbow Skateland in Lockport, NY, we love getting to share the fun of skating with newcomers. Our rental skates run from toddler size 6 up to adult size 14, so the whole family can enjoy time on the rink together.

Join us for Rollers & Strollers

This roller skating program for preschool age children takes place here at our Lockport skating rink every Tuesday from 10 am to noon from October through May.
$6 admission includes skate rental, usage of skate trainers, and time in the Bounce Zone (54" maximum height)
Wheeled riding toys are also allowed for this event.

Bargain Nights with Half Price Activities

Taking the whole family out can get expensive; fortunately we've got you covered with Half Price Night every Tuesday from 5-8 pm! (October – May)
Enjoy skating admission for just $3, Bounce Zone admission for just $1.50, and Lasertron admission for only $3.50!

Learn to Skate Class

Help your child learn the fundamentals of roller skating at our weekly Learn to Skate Class! Skating is a skill they can enjoy for the rest of their lives, so help them start off on the right foot with basic techniques like how to glide, how to fall safely and get back up, etc.
$7 admission (skate rental $3) includes entrance to Afternoon Skate session taking place afterward from noon to 4:30 pm.

Family of 4 Deal

After a long week, spending some quality time with your kids is so important for everyone's mental health. Celebrate the weekend and your time together with our 7:30 pm to 10 pm Family Skate.
$48 admission includes arcade games, skate rentals, 1 pizza, 1 pitcher of soda, and use of the Bounce Zone for kids under 54 inches tall.
Ready to let the good times roll with your kiddos? We hope to see you at one of our fun, family-friendly Lockport events soon!