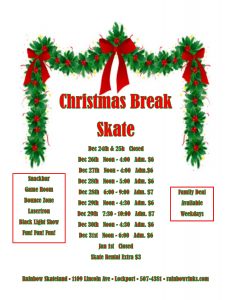 It's the holiday season and that means kids are going to be home from school soon. What better time to find some great family activities to do together? At Rainbow Skateland in Lockport, NY, we thought it would be fun to give you a short list of fun activities that the entire family will enjoy. Check out some of our favorite winter break activities below and enjoy the season together!
Look at Christmas Lights!
There is no other time of year that we can see so much spirit and love just by driving around the neighborhood! Gather up the family and pack up some hot chocolate and cookies. You can walk or drive around to see all the festive lights. Also check with local organizations to see if there are any luminaries scheduled this season!
Have a Treasure Hunt!
Perfect for in the house or out in the yard, start by hiding some small but meaningful prizes, then make a treasure map or write clues for kids to go find them. Instead of hidings gifts, consider things like small treats, gift certificates or candies, or even coupons for getting out of chores or having more computer/tablet time!
Go for a Holiday Skate
Of course, our favorite holiday activity takes place right here at Rainbow Skateland! Roller skating has been a family favorite for generations. Our DJ will be playing all the best holiday and pop songs all season long. Not to mention, skating is a great workout so if you need a fun way to tire out the kids during winter break, roll on by!