Are you looking for the greatest kids birthday parties at the best price? Look no further than Rainbow Skateland in Lockport, NY!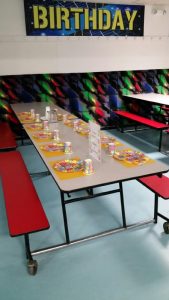 When you host a birthday party at Rainbow Skateland, we handle all the details: setup, cleanup, activities, food and drinks, place settings, a dedicated Party Coach, and even invitations. All you have to worry about is the guest list, the birthday cake, and the guest of honor. Our affordable party packages include admission and skate rental, plus a free return admission for the birthday child. After that, your party can be as simple or as elaborate as you'd like! Do you want your guests to spend some time playing mini golf or lazer tag? Would they enjoy tokens for our arcade games, or maybe some time in the bounce house? Our party add-ons are as affordable as they are fun.
If you want to really take a birthday to the next level, consider our super popular glow party option! When you select this upgrade, which can be added to either a Deluxe or Teen Party, we turn off the lights for your party and turn up the glow. Not only will we supply your guests with all the glow necklaces and bracelets they can handle, but the plates, cups, plasticware, and centerpieces will also glow!
At Rainbow Skateland, we've been doing this a long time, and we're the best at it. Parties are available during any open session except Friday night; we also offer private parties for groups of 50 of more. Call us today and let's get started planning the greatest birthday party yet!