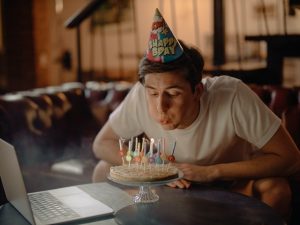 The coronavirus pandemic has taken a toll on everyone, but it can be especially disruptive to kids. With their normal routines thrown off, missing their friends and normal activities, and having to learn the ins and outs of virtual classes, it's no wonder many kids are stressed out.
If your child's birthday is approaching, they may also be feeling sad and upset that their birthday plans are cancelled. It's perfectly normal to feel that way, but just because you can't host a birthday party in public doesn't mean your child's birthday has to go uncelebrated!
There are tons of virtual birthday party ideas out there, but these are a few of our favorites. Take a look at these ideas for virtual birthday celebrations and create fun memories despite the situation. 
Virtual Birthday Party Ideas
Throw a streaming party.
If your child's heart was set on a magician, princess, clown, or character appearance at their party, consider organizing a Zoom party where all of the guests can tune in and watch the performance from home! The performer will be grateful for the work, and your kid can still get a fun experience with their friends. Even if the performer doesn't have a set show format, they can still facilitate games for the kids to liven up the party. 
Collect video greetings and have a viewing session with your kids.
Birthdays are such a special time, and not just for kids! It's heartbreaking for grandparents, aunts and uncles, and other loved ones to miss the occasion, but they can still make the day special. If a video conferencing party doesn't appeal to your crowd, get them to record videos of themselves wishing the birthday kid a happy birthday. Make some popcorn, dim the lights, and have a "screening" of all the nice messages. 
You can easily organize this type of virtual birthday party on Facebook by creating a private group and inviting the friends and family members you'd like to participate. For bonus points, do a Facebook live while your child watches the videos so the group can see their reactions!
Host game night online.
If your kid and their friends love board games, a game night is in order. There are all kinds of cool options for virtual game night these days, from the Houseparty app (trivia, Chips & Guac, Pictionary) to Playing Cards to Scattergories! 
While these virtual party ideas don't compare to the fun of getting together with friends and family in person, we hope they'll bring a smile to your birthday kid's face on their special day. Remember, once the coronavirus restrictions are lifted, you can still plan a party at Rainbow Skateland! You could even team up with the parents of other kids in your child's class whose birthdays got "skipped" due to the pandemic and organize a joint party.