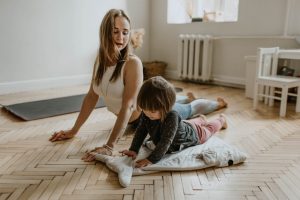 Staying home during the pandemic has been hard for everyone, but it's especially tough when you have kids who need to burn off some energy! Without P.E. class, team sports, or even the ability to play with neighborhood friends or use the local playground, kids are bouncing off the walls and parents are looking for ways to get their kids some exercise. 
Fortunately, there are plenty of ways for kids to get physical activity despite the coronavirus pandemic. 
How to Keep Kids Physically Active During the Pandemic
Outdoor Roller Skating
Just because we're temporarily closed doesn't mean your kids have to give up skating! Roller skating is an awesome full-body workout that provides cardio exercise and builds muscles… And you can do it outside of the skating rink as well!
To convert your family's roller skates for outdoor use, you'll just need to purchase and install a different type of wheel. Changing skate wheels is easy, and there are lots of tutorials online if you need help. Outdoor roller skate wheels are softer and wider, providing more "give" and absorbing shocks from all of the imperfections of outdoor skating surfaces, from cracks in the sidewalk to sticks and pebbles.  Give us a call at 716-507-4381 to purchase skate wheels, roller skates, and safety equipment to help your family get started skating outdoors. (When you shop local in Lockport at our skating pro shop, you're supporting Rainbow Skateland and the local skating community. We appreciate your support!) 
Online Fitness Classes
Another great way to stay active without leaving the house is to stage a fitness class right in your living room! Check out some of the great free fitness content available on YouTube, including: 
Daily Walks
While there are lots of cool ways technology can help us be active, don't forget about the classics! You can still walk around your neighborhood or local park as long as you maintain proper social distancing of at least 6 feet and wear a face covering.