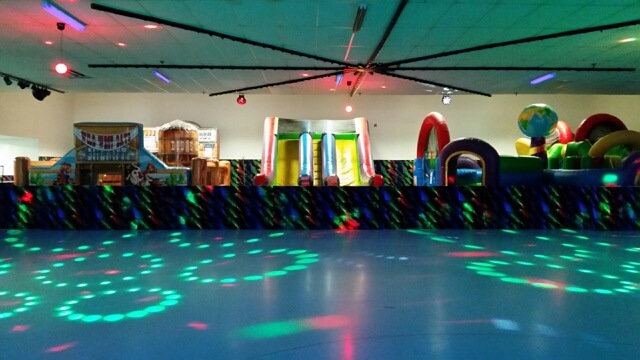 Did you know that Rainbow Skateland has been putting smiles on faces in western New York since 1949? We're a local staple for a reason, and that's because we know how to have a good time! If you're looking for some fun, local events in Lockport or the greater Buffalo/Niagara County area, we've got you covered. Read on to learn more, or just start planning your visit to our cool attractions.
Holiday Parties
Whether you're looking for a private party venue or a public event, for a large crowd or a small group, we can help you make your group event a smashing success. Our group parties are great for companies, schools, sports teams, youth groups, churches, neighborhoods, family reunions, bachelor and bachelorette parties, and pretty much any celebration you can dream up!
Christmas Break Skate
Don't waste Christmas Break sitting at home – come to the skating rink for our Christmas Break Skate! With the exception of Christmas Eve, Christmas Day, and New Year's Day, we'll be open for the whole break.
December 26th, noon to 4:30 pm, $8 admission
December 27th through December 30th, noon to 4:00 pm, $8 admission
December 30th, 5:00 pm to 8:00 pm, $7 admission
December 31st, noon to 4:00 pm, $8 admission
January 2nd, noon to 4:30 pm, $8 admission
CLOSED: December 24th and 25th, January 1st
Please note that skate rental is an additional $3, if needed
Skating Fun for Little Ones
Every Tuesday morning, we host our Preschool/Homeschool Skate here at the skating rink from 10:00 am to noon. Admission is just $7 per child, including skate rental! (Skate trainers are available for an additional $3 fee.)
This event runs from October to May, giving kids an opportunity to get some fun, social exercise even when it's cold and snowy outside! Feel free to bring a riding toy (obviously little kids only!) or skates to use on the skate floor.
Roller Skating Lessons
There's no reason roller skating should only be for kids. Why let them have all the fun?! We teach our Learn to Skate class every Saturday morning from October through May (excluding holidays), from 11:00 am to 11:45 am. Admission is just $8 ($3 for skate rental) and includes admission to that day's afternoon session from noon to 4:30 pm.
Our roller skating class is taught by certified instructors who will teach you all the basics of skating that you need to know. You'll learn how to start and stop, how to safely fall and get up, and most of all, you'll do it all in a fun, friendly, low-pressure atmosphere!
Ready to get some exercise and have a blast this holiday season? Visit us at Rainbow Skateland in Lockport, New York!
(First time skating? Welcome! Please remember to wear comfortable clothes and tall, thick socks. Excessively tight or baggy clothes are no fun to skate in and can result in you falling and/or causing others to fall.)