The skating rink is a great place to have fun with old friends or meet new people. A day at the rink will be easier and more fun for you if you know the proper skating etiquette. Next time you're out for some open skating at Rainbow Stateland, follow these tips to make sure you're being a polite skater.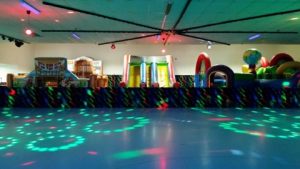 Pay attention! Make sure you skate in the same direction as everyone else and look out for other skaters, especially those who are younger or smaller than you. This is especially important if you're skating backwards or much faster than the people around you.

Don't block other skaters. Avoid sudden stops, stay with the flow of traffic (it usually goes counterclockwise, but just make you check first), and don't cut people off. Any of these could cause collisions, and nobody wants that!

If you'd like to work on particular

skating skills

or just dance a bit, the center of the rink is the place to do it! This is where you can to practice turns,

tricks

, etc. without anyone getting in your way – or vice versa.  

Always listen to the Rainbow Skateland staff. The DJ will make announcements related to the direction of skating, as well as special skates for kids, couples, singalongs, etc. Staff members are there to help make sure everyone has a good time, which means enforcing the rules, so be respectful.
We want everyone to feel welcome at Rainbow Skateland. If all our guests work together to follow the rules and guidelines, we'll all have fun together!