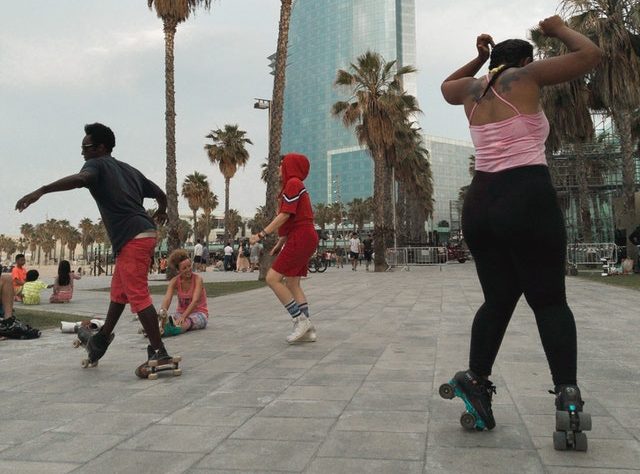 Getting enough exercise can be challenging at the best of times, but during the COVID-19 pandemic, finding ways to stay active has been even harder. With gyms and yoga studios closed, social distancing guidelines in place, and even skating rinks temporarily shut down, it's hard to stay motivated and on top of your fitness goals. While we can't wait to be able to reopen Rainbow Skateland, you don't have to wait until then to get your skate on! Learn why you should try roller skating outdoors to scratch that skating itch and have some much-needed fun in the meantime. 
Roller Skating Outside the Rink
Roller skating is a perfect workout. 
We've waxed poetic about the fitness benefits of roller skating before, but how could we not when there are so many? Roller skating can burn up to 600 calories per hour if you're skating really intensely, but even moderate skating can burn over 300 calories an hour. 
As an aerobic exercise, it increases your heart rate and helps improve cardiovascular fitness. But your heart isn't the only muscle that skating strengthens; roller skating also tones and strengthens your core and leg muscles, especially the glutes, quads, hamstrings, calves, and hips.
Add in the improvements you can make to your balance and agility, and it's easy to see why so many people enjoy using roller skating as a cross-training workout. It's also low-impact, putting about half as much stress on your joints as jogging does, while still delivering comparable cardio results. 
Outdoor skating is almost as easy as skating inside.
You don't need a whole new set of roller skates to skate outside; all you have to do is change your wheels! Outdoor skate wheels are typically wider and softer than indoor skate wheels, providing more stability and shock absorption to deal with the rougher outdoor environment. (Think sidewalk cracks, dirt and debris, etc.)
When skating outdoors, you should also wear a helmet, as well as elbow and knee pads. Even experienced skaters wipe out every now and then, and falling on a rough sidewalk or road hurts a lot more than falling on a smooth, clean, and well-maintained skating rink floor.   
Roller skating can be safe and social. 
We're all looking for ways to connect with friends and family despite the pandemic, and roller skating outdoors is a great way to do that! Invite a friend to join you at the park for a leisurely ride and enjoy chatting and just hanging out. As long as you remember to wear your masks, social distance, and follow the rest of the CDC guidelines for outdoor exercise, it's a low-risk activity that can help you maintain important relationships and benefit your mental health.
Spending time outdoors is good for your mental health. 
Speaking of mental health, did you know that spending time outside can boost your mood? Being out in nature has lots of important benefits for humans, including reducing stress and increasing happiness and well-being.