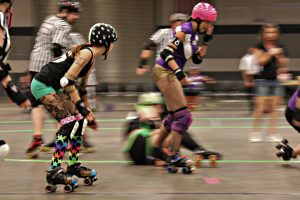 Whether you're training for a sport like roller derby or hockey, participating in an upcoming skating competition, or you just want to be able to keep up with your friends on the rink, here are some tricks to building your skating endurance:
Alternate the Intensity of Your Workout – This isn't just for building endurance, it's also just solid workout advice. Your high intensity workouts should be broken up by less strenuous workouts throughout your week. This will help minimize your risk of over-training and injury.

Work on Cardio On and Off the Rink – For the most part, stamina is universal (so long as we're talking about the same muscle groups). Skating endurance training will help you when it comes to running or swimming, and running and swimming will help you when it comes to skating. So pick another workout or two and alternate them.

Make it Fun – Whether you're racing your friends or getting down to the music, the more intense your skating session, the more you'll improve your endurance. And you're much more likely to stick with a workout regimen if it's fun!

Practice Makes Perfect – When it comes to building endurance, there's no trick in the world more valuable than putting in the time. The more you skate, the easier it will become. So if you want to build skating endurance, then skate!
That last point is key. If you want to increase your roller skating endurance, then you've got to practice. And there's no better place to practice skating than at our amazing Lockport roller skating center. So check out our hours and our calendar of upcoming Lockport events, and make your plans to visit us today!