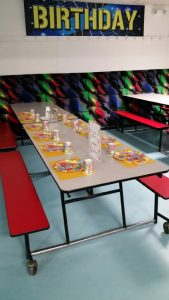 The answer is obviously YES! Roller skating IS the prefect summer birthday party for any child and here's why. Roller skating is a timeless classic. Families have been enjoying summer birthday parties at the roller rink for generations. And although there have been some additions over the years, the basics have remained the same since the start. Skating has such a perfect blend of fun, healthy activity and awesome games that big changes and marketing gimmicks have never been needed.
Summer Fun for All Ages
Skating is great for everyone from toddlers to grandparents. Our Skate center at Rainbow Skateland in Lockport, NY, is always family friendly and open to people of all ages! Our concessions, Bounce Zone, arcade games and Laser Tron aren't bad either.
Birthday Party Paradise!
Every birthday party at Rainbow Skateland includes skate rentals, pizza, drinks, a party coach, and a reserved table for 8 guests including the birthday boy or girl. We also throw in invitations, game discounts and more! Plus, booking is so easy you won't believe it!
Check Out Our New Summer Party Hours
Tuesday/Wednesday/Thursday: 2-4 pm, 4:30-6:30 pm, & 7-9 pm
Saturday: 12-2 pm, 2:30-4:30pm, & 7:30-9:30 pm
Sunday:12-2 pm, 2:30-4:30 pm
We also offer really awesome add-ons like laser tag and mini golf. We'll also help every step of the way, from booking to hitting the rink. Give us a call today to find out more and make a booking for your perfect summer birthday party!