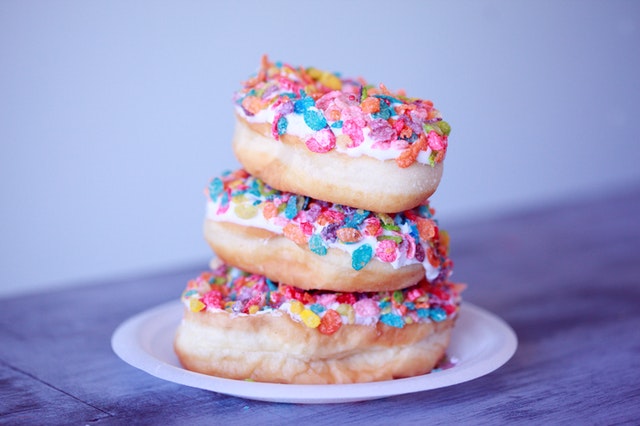 What's a birthday without a birthday cake? Well, don't be so quick to judge. Whether your family has back-to-back birthdays and everyone's tired of cake, or the birthday kid just doesn't like cake all that much, these birthday cake alternatives are sure to make your celebration extra special! 
Think about what the birthday person enjoys and bake (or buy) something special just for them. A unique birthday treat will surprise and delight them, and make it a birthday to remember. 
Unique Birthday Cake Alternatives
Birthday Donuts
Who could say no to a huge pile of donuts? Especially when crowned with sprinkles and a candle for wish-making! If the birthday person has a favorite donut flavor, you could make the whole "cake" out of donuts in that flavor, or for more variety, get one or two of everything and build a donut mountain with something for everyone.
If you want to get extra creative, display the donuts on a pole or pegboard! 
Birthday Pie
Are you Team Cake or Team Pie? There are some very strong feelings out there about these giants of the dessert world, so it's no wonder some people would rather celebrate with a birthday pie. Icebox pies look great with a dusting of sprinkles or sliced fruit designs, while baked pies can be customized with artfully-applied bits of dough. Spell out "Happy birthday," the birthday person's name, or go wild with pastry flowers, animals, or patterns! The options are endless, so roll up your sleeves and start creating your own pie crust art. 
Birthday Sundaes
Birthday cake and ice cream often go hand-in-hand, but for a change of pace, why not let the ice cream be the star of the show? With some fun toppings, cones or sundae dishes, and good old vanilla ice cream, you can create your very own ice cream bar. Everyone can customize their own perfect sundae, banana split, or cone just how they like it. Toppings can include pretty much anything you want, from candy and sprinkles to chocolate sauce, nuts, and fruit. Kick it up a notch with mochi rice candy or "magic shell" chocolate coating. 
Birthday Pancakes
While they do have "cake" in their name, pancakes are a fun departure from birthday cake, especially if you've got a breakfast-lover on your hands. Birthday breakfast in bed is enough to make anyone's day, especially if you complete the pancake stack with some colorful fruit, chocolate chips, whipped cream, or even bacon. Stick a candle in the middle and serenade the birthday person while they enjoy the most important meal of the day. 
Birthday Rice Krispies Treat
Who doesn't love the snap, crackle, and pop of a Rice Krispies treat? The chewy, marshmallow-y goodness is just begging for the birthday spotlight, and it's versatile enough that you can style it dozens of ways to create a birthday centerpiece. Mix rainbow sprinkles in or scatter over the top; make them in a round pan and ice to look like a regular cake, or mold it into a fun shape while it's still warm. 
These ideas are just scratching the surface, so we'd love to know: What's your favorite birthday treat?