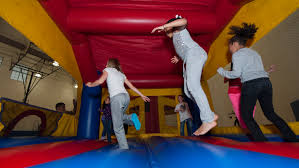 Our Bounce Zone at Rainbow Skateland is brand new and ready for a bouncin'-good time. This new attraction is filled with bouncers, mazes, obstacle course and slides for your kiddos to jump, bounce and play on! But before you release your kiddos for the ultimate play session of their lives, take a look at this short guide on how you can help keep your kids safe while visiting Rainbow Skateland, below.
Before entering, have children take off their shoes, glasses, and jewelry. Make sure they empty their pockets of any sharp objects, as well.

Set rules for safe play. Teach children to not roughhouse, tumble, wrestle or do flips. Have them stay away from the entrance or exit, and the sides or walls of the bouncer.

Only children age 6 and older should use bounce houses. Younger children may not have the balance, coordination or strength to safely enjoy one.
These are just three ways to keep your kiddos safe while using our bounce houses, but there are of course many other ways to keep them safe also. At Rainbow Skateland, we encourage parents to look into ways to continue to keep your kiddos safe while having fun at our facility.
For more information about admission and party bookings at Rainbow Skateland, visit our website or give us a call at 716-507-4381. Have you made memories at Rainbow Skateland? Like our Facebook page, then share your experiences with us. We want to hear from you!