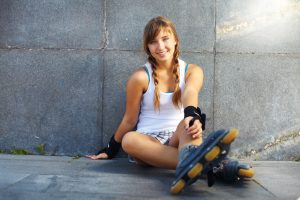 We bet you love roller skating as much as we do. It's incredibly fun, great exercise, and a blast to do with friends. But, did you know that roller skating has a very interesting history? Before heading to Rainbow Skateland, check out the history of roller skating:
Roller Skating in the 1700's & 1800's
Before America was officially a country, roller skating was born! Here are a few highlights from roller skating in the 1700's and 1800's:
1743: Roller skates made their debut in a London stage performance.
1760: John Joseph Merlin was credited with creating the first roller skate.
1819: Mr. Petitbled patented the first roller skate design. Though this creation was impressive, these skates were not very maneuverable.
1857: The first public roller skating rinks were opened in London.
1863: James Plimpton improved on previous roller skating designs and created the quad skate.
1875: The sport of roller skating is born! England held its very first roller skating competition.
1876: The toe stop was created which roller skaters still use today.
1880's: America experienced her first roller skate "boom" period.
Roller Skating in the 1900's
A lot happened in the 1700's and 1800's concerning roller skating and roller skates. But, the adventure was still only beginning. With more development, precision, and engineering, roller skates transformed into an incredible tool that millions of people began to use for fun. Check out a few highlights from roller skating in the 1900's:
1902: A public skating rink opened in Chicago. Over 7,000 people showed up for opening night!
1977: Roller skates appeared in a German DEFA movie called Die zertanzten Schuhe. (More roller skating movies have been made since then such as Whip It and Roll Bounce.
1980's: Scott Olson created the company Rollerblade, Inc.
1983: Roller skating received incredible recognition when President Ronald Raegan declared October as National Roller Skating Month.
1993: Roller skating safety increased tremendously when Rollerblade, Inc. created Active Break Technology.
Since 1993, more changes and developments have been made. But, one thing remains the same: people all over the world love roller skating! So, come to Rainbow Skateland today to get your skate on! Check out our hours here.