The Roller Skating Association International (RSA) will be kicking off National Roller Skating Month with the theme "From the Rink to the Rings". It is an important message that roller skating isn't just America's favorite pastime, it's also a stepping stone to a healthier and brighter future. In addition to the poster model, Chad Hedrick, winningest speed skater of all time, many famous Olympians began in the roller skating rink including Apollo Ono, J.R. Celski, Brian Boitano, Jennifer Rodriguez, Derek Parra, Brittany Bowe and more. This year's poster represents the road Chad took to become an Olympic medalist starting with his years of training in the roller skating rink to winning five Olympic medals and 52 titles as a World Champion Inline Speed Skater.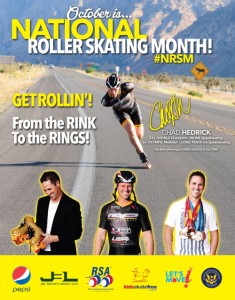 The RSA wants people to know that roller skating is one of the few activities that provides a complete aerobic workout for over 640 of the body's muscles – especially the heart. To kick off the celebration early, the RSA spent the weekend in New York at Nickelodeon's Worldwide Day of Play sharing with more than 5,000 children the joys of roller skating! Families, kids, and teens are encouraged to dedicate themselves to achieving an active lifestyle.
The RSA is encouraging participants to post their photos to social media using the hashtag #NRSM to show their roller skating adventures!
President's Challenge and Let's Move Show Support of National Roller Skating Month
We are proud to announce that the Roller Skating Association International has garnered the support of The President's Council on Fitness, Sports and Nutrition and Let's Move Program with the mission of keeping kids active and healthy in a safe environment.
The President's Challenge is a program that encourages all Americans to make being active an important part of their everyday lives. For more information, please visit www.presidentschallenge.org or call 1-800-258-8146.
Let's Move! is a comprehensive initiative, launched by the First Lady, dedicated to solving the problem of obesity within a generation, so that children born today will grow up healthier and able to pursue their dreams. For more information visit www.letsmove.gov.
The National Roller Skating Month Campaign is sponsored by: Pepsi, JBL Trinity Group and Kids Skate Free and is supported by the Let's Move Program and the President's Challenge Program.
Blog originally posted at http://www.rollerskating.com/blog/celebrate+national+roller+skating+month/10