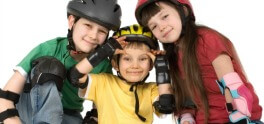 It's a brand new school year. Why not try to add something a little different to your kids' weekly after-school activities? At Rainbow Skateland, in Lockport, NY, our roller skating center is perfect for keeping your kids active and entertained after their work is done.
Enjoy Roller Skating Often and Stay in Shape
Did you know that you can burn up to 600 calories an hour roller skating? Plus, skating is much easier on your body than other forms of cardio and aerobic exercise. Your kids will never realize it, though. They'll be too busy having fun and playing our classic skating games.
Great Times with Great Friends
You'll meet people from all over at the skating center and it's a perfect place to make new friends. As a family-oriented activity center, you don't have to worry about what your kids are up to or who they might be hanging out with. At Rainbow, we provide a fun and safe environment for all ages!
Plus, don't forget about our other great attractions like the Game Zone, mini golf, and laser tag. There's enough going on at Rainbow to keep the little ones busy all school year long!
Start A New Routine with Rainbow Skateland
This year, when you're looking for a new way to keep the kids happy, get them to shed some extra energy, and make great new friends, make Rainbow part of your after-school routine. Give us a call or roll by to learn more!