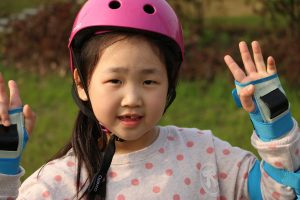 Everything is better on roller skates, right? Our team at Rainbow Skateland says "absolutely!" Roller skating is a great way to build endurance and get in shape. Check out some cool games to play next time you're at the rink.
Freeze tag
Lace up your skates and have fun with friends with this classic game. One person is selected to be the "tagger." This person goes around trying to tap their friends, while everyone else tries their best to stay away from the tagger because if they are tagged-they're frozen!
Limbo
A classic game of limbo, on roller skates! See how low you can go on skates. Don't touch the stick.
Relay races
Classic relay races are also fun on roller skates. Pick up speed and bring your team to victory!
4 Corners
Everyone skates until the music stops then everyone has to skate to 1 of the 4 corners of the rink. With their eyes closed, one designated person calls out a corner 1-4. If your corner is called out, you are eliminated. The game goes on until only 1 person is left standing.
These are just some of the fun games kids can play on roller skates. It's a fun way to get the kids moving. Join us this week for Open Skate at the rink. Visit our website for session hours and admission details.

For more information about sessions and parties at Rainbow Skateland, visit our website or give us a call at 716-507-4381. Do you like rollin' at Rainbow Skateland? Rate and share your experience with us in the review section of our Facebook page today. We can't wait to hear from you.