Are your kids going stir crazy? No child wants to be stuck in the house all day. And their parents want it even less! So what do you do when it's cold outside? You don't have to wreck the house to keep the kids entertained. Rainbow Skateland has weekly events that kids of all ages will love! Keep the kids engaged in active play with a family day at Rainbow Skateland.
Monday Night Family Fun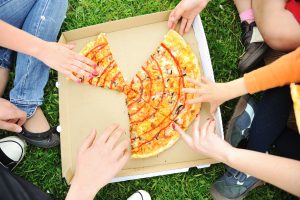 We have two great events every Monday. First, kids can skate their stress away at After School Skate from 5-8pm. We even have a Family of Four deal that includes admission, skate rentals, a pizza pie, a pitcher of soda, Bounce Zone fun, and 20 game tokens. Don't have kids? You can still have fun skating! Join us for 21+ fun at Adult Night from 8-10:30pm.
Toddler Tuesday
Do you want big fun for your little ones? Don't miss Rollers & Strollers from 10 to noon every Tuesday! Kids can test their skating skills, play in the Bounce Zone, or even bring a ride along toy and scoot around the rink. We also have special fun activities for toddlers every Tuesday morning.
Friday Fun at Rainbow Skateland
Who's ready for the weekend? Roll into the fun with After School Skate from 5-7:30pm. Love our Monday night Family of Four special? It's also available on Friday nights! If your kids are too cool for school, don't worry. Teen Night takes place from 8-10:30 every Friday night.
Weekend Events in Lockport
A weekend full of errands and chores? We don't think so! Work these skate events into your family's schedule.
Learn to Skate Class from 11-11:45am every Saturday

Afternoon Skate on Saturdays from 12-4:30pm

Saturday Family Skate from 7:30-10pm

Sunday Matinee Skate from 12-4:30pm
Beat winter boredom at Rainbow Skateland in Lockport, NY.