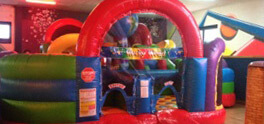 Hitting the rink for the first time can be scary, especially for little kids. But with a little extra attention, they can do it. That's why we are so proud of our Rollers and Strollers class!

Rollers and Strollers
Rollers and Strollers is geared toward preschool-aged children who might be a little intimidated by the rink. The program's goal is to help young kids get used to the skating rink and excited to try skating. We encourage parents to bring your child's favorite riding toy along for a spin around the rink!
Roller and Strollers is held every Tuesday (from October through May) from 10:00 am – 12:00 pm. Admission is only $6.00 and includes roller skate rentals, skate trainers, and admission to our famed Bounce Zone.
Your child will love the Bounce Zone! It has plenty of bouncers, mazes, slides, and an obstacle course to get your kid moving to bounce off a little energy in a clean and safe environment. The maximum height for the Bounce Zone is 54 inches, and there's is a seating area for parents to watch their kids have fun.
Skate Lessons
If your child does well at Strollers and Rollers and wants to learn more, then checkout our Lockport skate lessons for young and old. So long as your child can stand on skates and follow simple directions, then they're more than welcomed at our skate lessons!
Check out our upcoming Lockport events schedule and make plans to get the whole family together for some quality time at your local Lockport skating center! We look forward to seeing you.