It's the most wonderful time of the year – spooky season! And after a year (+++) of social distancing and staying home, lots of ghosts and ghouls are ready to party. If you're the designated Ghost Host of your neighborhood Halloween bash, all the details involved with party planning might make you feel like you're being buried alive. Don't panic! We've got a few tricks up our sleeve to help you throw the greatest monster bash your guests have ever seen!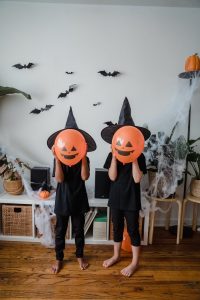 Spooky Snacks
First things first, it's not a party without a good snack spread. Any good halloween party host knows that the food has to be more than just delicious – it also needs to be fun! Don't be afraid to think outside the box, and to get a little creepy and creative with your offerings. Start out with a Halloween must-have: candy! Mix it up by creating a candy charcuterie board that's sure to wow your guests. Keep things seasonal by serving this pumpkin hummus or an interactive apple kabob station where guests can decorate their own sweet treats! And for a more substantial option that's sure to satisfy even the pickiest palette, halloween graveyard pizza is sure to be a big hit.
Dreadful Decor
Cobwebs and jack-o-lanterns can go a long way in creating a creepy vibe, but if you want to go the extra mile in your personal haunted house, it's time to get creative! One way to add some unique and spooky touches to your decor without breaking the bank is to go thrifting! Brass candlesticks holders, creepy dolls, vintage photos….your local secondhand shop just might be a trove of Halloween treasures. If DIY is more your speed, try adding these floating candles or a bubbling witch cauldron to give a mystical touch, or chicken wire ghosts to haunt your lawn as guests arrive.
Creepy Costumes
It's not Halloween without a parade of amazing costumes! Encourage your guests to dress their best by hosting a costume contest. Award prizes for a variety of categories – best couples costume, best homemade costume, cutest pet costume, scariest costume, funniest pun…the possibilities are endless! For guests who might not be as prepared for a spooky soiree, stock up on extra costume pieces so that they can join in on the fun. A selection of funny hats, accessories, and a little face paint can help ensure that every guest feels welcome and ready to party!
Paranormal Playlist
What's a Halloween party without a killer playlist? Set the scene for your celebration by choosing music to get the party started. Monster Mash is a given, but how do you build a playlist that's sure to scare? Luckily, you're not the first person to encounter this particular issue, and the internet is full of solutions. A quick search of YouTube or Spotify for "Halloween Playlist" will give you plenty of options! Be sure to check out the songs to make sure everything is age-appropriate, then hook up a blue-tooth speaker and start dancing! Voila – the perfect party soundtrack without a major price tag!
With these tips and a little imagination, you're sure to have a party that your guests are just dying to get invited to this Halloween!